For the week of February 11 – 17, 2019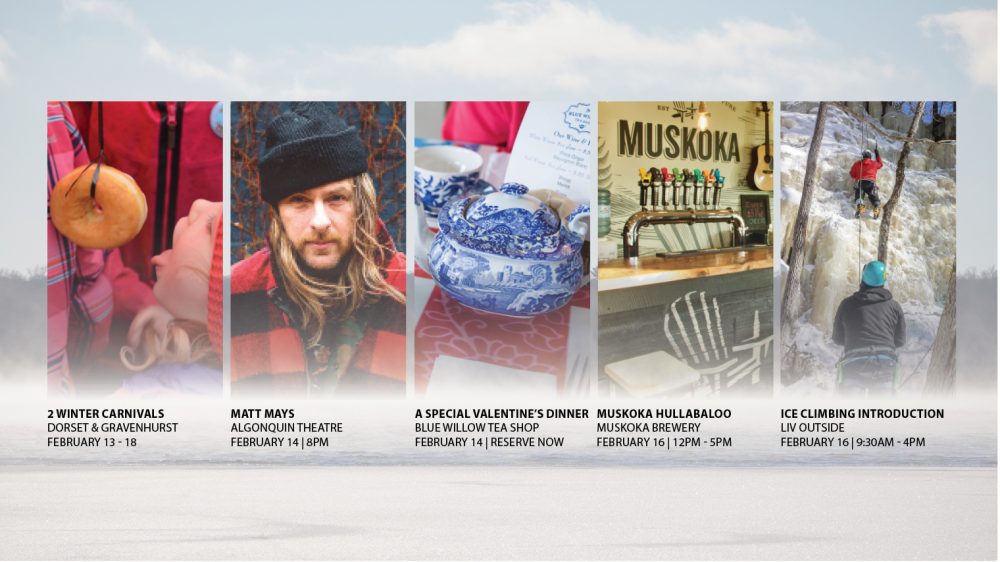 Love is in the air in Muskoka this week. If you are looking to make a dinner reservation for Thursday, February 14, the annual Valentine's Day Dinner at Blue Willow Tea Shop is always a delight. Sticking with the international day of love theme, Canadian Indie Rock artist Matt Mays will be rocking the stage on February 14 in Huntsville.
After the sweet treats of Valentine's, we are gearing up for Family Day weekend. Kicking off the family fun are two popular winter carnivals, the Gravenhurst Winter Carnival and the Dorset Snowball Winter Carnival. Another family-friendly event, check out  Muskoka Hullabaloo at Muskoka Brewery on Saturday, February 16. The indoor market with over 30 + vendors will be donating all the dollars raised from the event to their Community Venture Fund.
And if you live for the thrill of it all, book your spot with LIV Outside's Ice Climbing guided experience. This one-of-a-kind winter activity is the ultimate in winter adventure!
RELATED: Check out our article, Things to do this Family Day weekend
TWO Winter Carnivals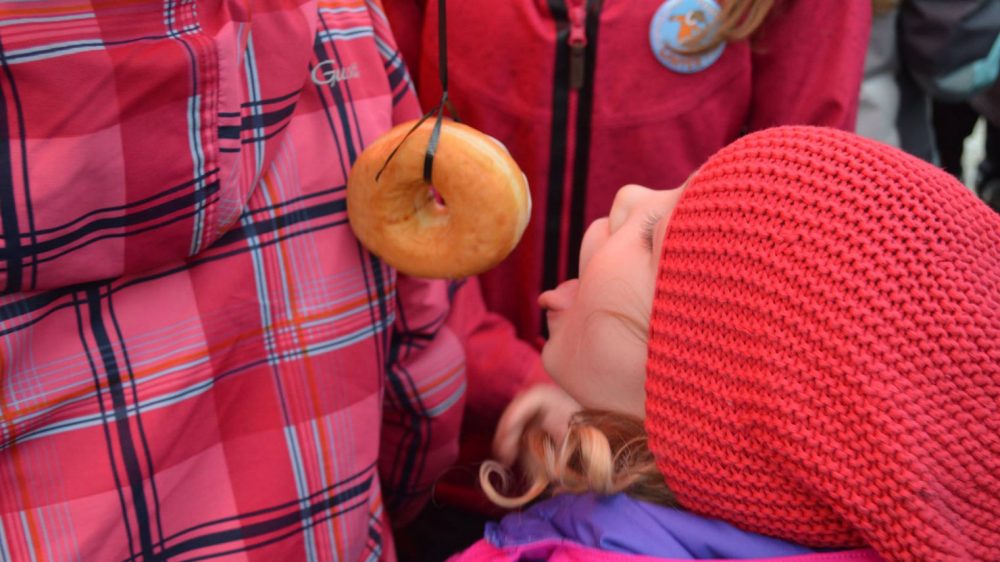 There are 2 long-standing winter carnivals taking place this weekend, full of Canadian winter traditions.
The Gravenhurst Winter Carnival will start on Wednesday, February 13 and continue through to Monday, February 18. Some winter activities you can expect to partake in or watch are, puddle jumps, the polar bear dip, donut eating on a string, the demolition derby, doggie dash, snow sculptures, a vintage snowmobile display, and tons more!
The Dorset Snowball Winter Carnival will also be taking place on February 15 – 16 and you can expect a family skating party on their outdoor skating rink, all you can eat pancake breakfast, the Dorset snowball parade, horse drawn wagon rides, and more!
The charm of small-town winter carnivals is so fun to be a part of, and a great family memory for the kids!
Matt Mays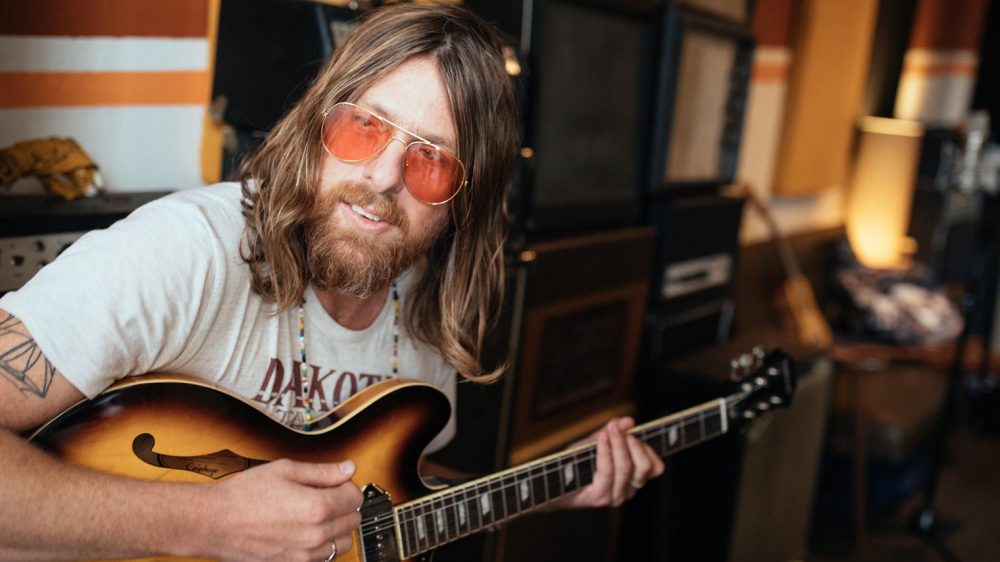 Canadian indie rock star, Matt Mays, will be playing at the Algonquin Theatre this Valentine's Day, February 14. The Huntsville Festival of the Arts is proud to bring you yet another amazing performer, set to deliver yet another amazing performance. Matt will for certain be the hottest ticket in town this Valentine's, as tickets are going fast.
For more information and to purchase your tickets, visit their website
A Special Valentine's Dinner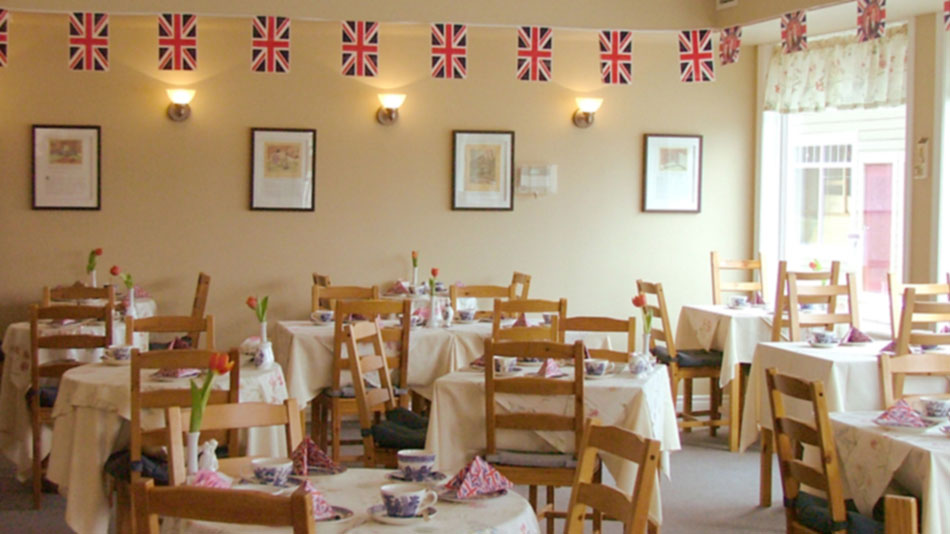 The Blue Willow Tea Shop at the Muskoka Wharf in Gravenhurst will be hosting a special Valentine's Day dinner on February 14. Seating will be at 5pm and there will be live entertainment by the one and only, Jack Hutton. Let the friendly staff take care of you for the evening, so you can focus on the one who really matters. Reservations are required for this romantic evening.
Call 705-687-2597 to reserve your table
For more Valentine's Day dinner suggestions across Muskoka, check out this article
Muskoka Hullabaloo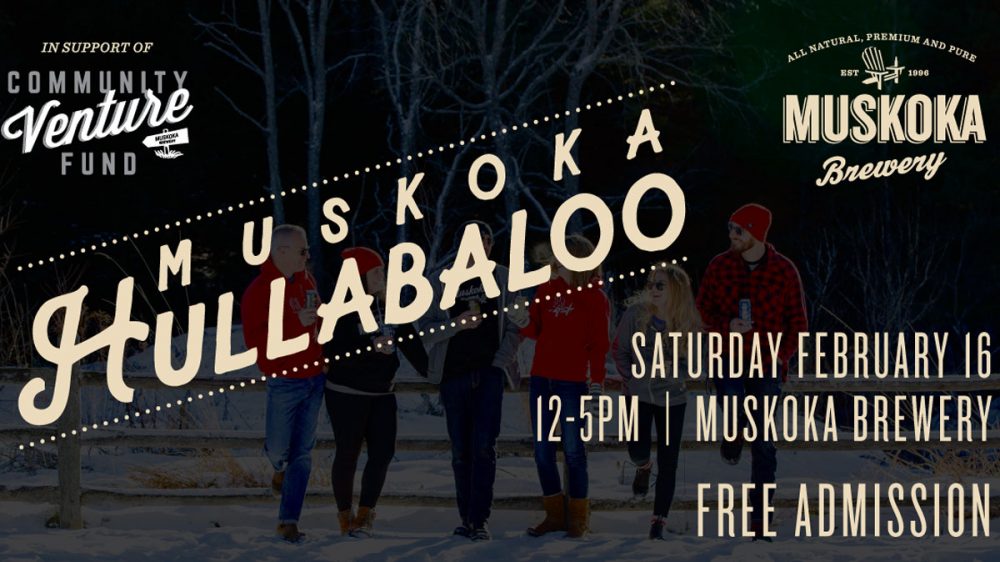 Browse the indoor marketplace at Muskoka Brewery on Saturday, February 16 from 12pm – 5pm. Admission is free to get into the event and there will be 30+ crafty, artisan vendors on-hand. You can expect to see vendors like Beatrice Olive Design Supply, Made for the Lake, Muskoka Candle Company, and of course all of the local craft breweries! There will be rockin' live music and an Ice Bar on the patio, ready to pour you an ice cold beer. What makes this event even better? All of the dollars raised will go back into our community through Muskoka Brewery's  Community Venture Fund.
For more information on the event, visit their website
Ice Climbing Guided Experience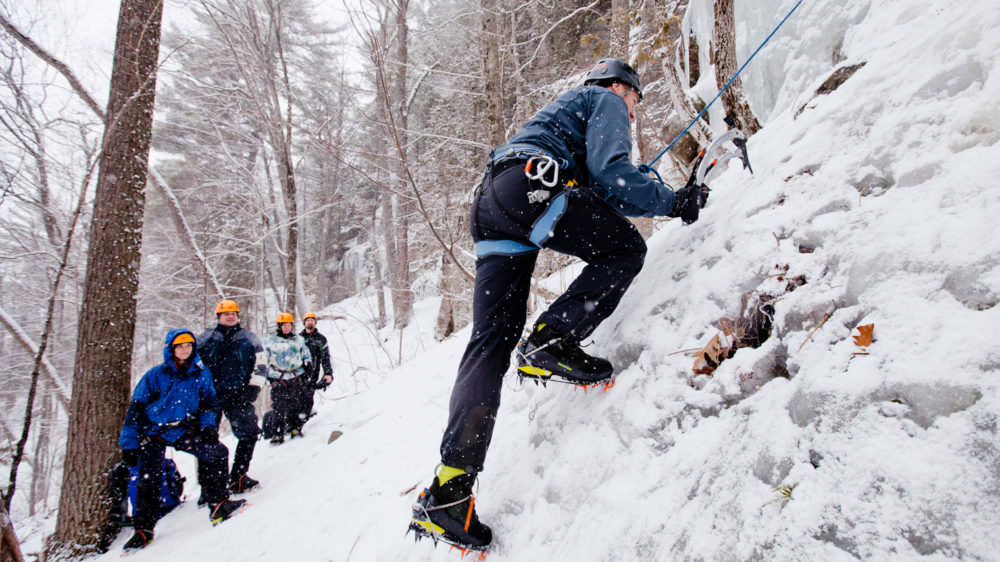 Prepare yourself for the thrill of climbing 70 – 100 vertical feet of chandelier ice, clinging to our beautiful Muskoka rock cuts. LIV Outside is offering Introduction to Ice Climbing courses all winter long, and one will be taking place this Saturday, February 16. This 6 hour course requires medium physicality and offers a 1 : 4 guide client ratio, making it great for a beginner who is looking for quality hands-on instruction and more opportunity to climb. The best in modern ice climbing equipment is provided with your registration fee, with the option to rent mitts, gloves and gaiters. Be sure to register early for this winter adventure.
For more information and to register for the course, visit their website
Stay and Play
Make the most of your Muskoka experience and check out our top recommendations for places to stay and perfect getaway packages.