35 minute flights starting at $140 per person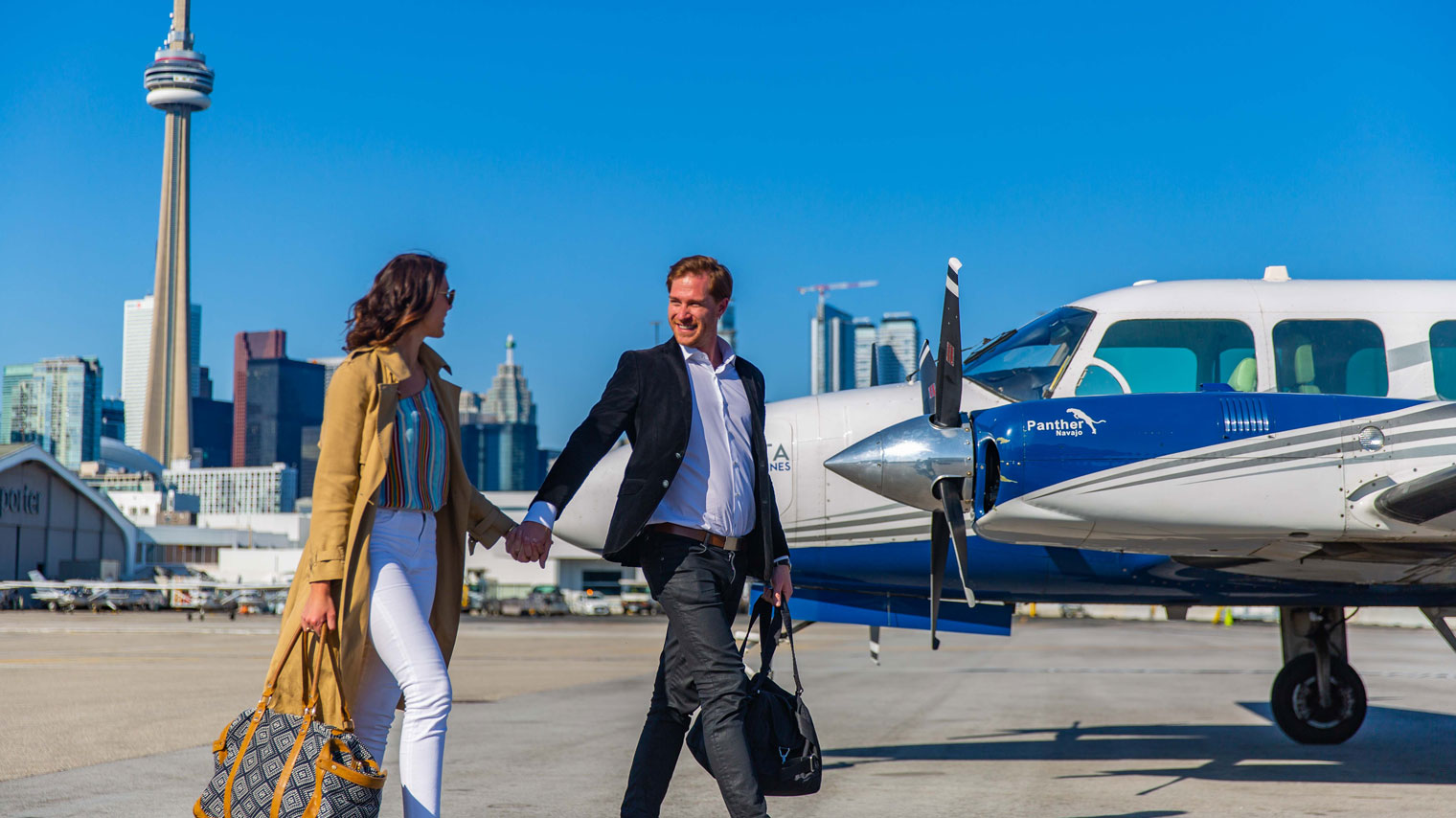 Convenient, quick and stress-free, FLYGTA and the Muskoka Airport are excited to announce the launch of regularly scheduled air taxi service from Toronto's Billy Bishop Airport to the Muskoka Airport.
Launched on June 15, 2018 the new service offers a more convenient and less stressful way to travel. Say goodbye to traffic congestion on HWY 400, 401, 427, Don Valley Parkway and the Gardiner. No Toronto parking is required. Benefit from free shuttle service connecting Billy Bishop to Union Station, the TTC and Go Train services.
"The Muskoka Airport Board feels this is a great opportunity for Muskoka's year-round residents, second home owners and visitors looking for more options and convenience connecting Muskoka and Toronto" said Bud Purves, Chair of the Muskoka Airport Board.  "The Muskoka Airport Board looks forward to welcoming more opportunities like this as we develop our strategic planning process this summer."
Operating as a pilot project, the proposed flights will run from June to October. Flights will operate between Billy Bishop Airport and Muskoka Airport, with an approximate travel time of 35 minutes. The twin engine Piper Panther aircraft will comfortably accommodate up to eight passengers at a time with a one-way ticket price of $140.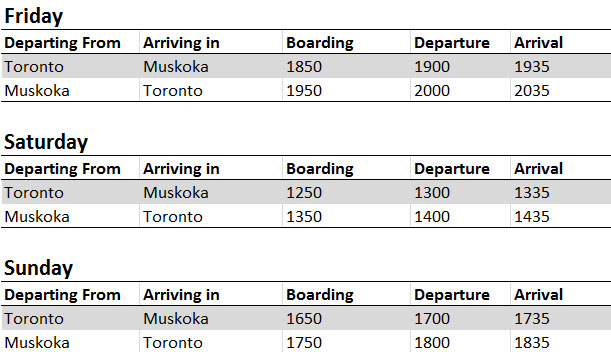 "These flights are a great way for Muskoka residents and visitors to avoid traffic and save time." says Chris Nowrouzi, CEO of FLYGTA. "The flights will run to and from Muskoka on Friday, Saturday and Sunday during peak travel times. We want to take the stress out of travel, provide outstanding customer service with no line ups and digital ticketing".
Muskoka averages close to 3 million person visits a year. This new service will open up Muskoka as a destination. Through connecting carriers operating from Billy Bishop Airport, there are links to more than 20 cities in Canada and the US.
"Muskoka's tourism industry is integral to the district's economy and Muskoka Tourism is excited to see the impact that regularly scheduled flights will have," said Luke Nixon-Janssen, Chairperson of Muskoka Tourism. "This service will undoubtably benefit Muskoka residents but Muskoka Tourism hopes that through our marketing efforts the service can also bring new guests and new tourism dollars to Muskoka's accommodation sector."
For schedule information or to book, visit FLYGTA's website
Getting to your final destination
Once you land at the Muskoka Airport, there are a couple of options for you to get to your final destination:
Hammond Transportation

offers chauffeur service (sedans, limousine, shuttles) that will pick you up at the Muskoka Airport, and bring you and your group right to your final destination
Discount Car and Truck Rentals in Bracebridge is able to meet you at the Muskoka Airport with a car rental. When you are flying out of Muskoka back to Toronto, you can leave your car rental at the Muskoka Airport for Discount to pick up.
If you are looking to charter onward transportation options, Georgian Bay Airways and Heli Muskoka can get you to your final destination.