Muskoka Tourism is here to support you and your business during this difficult period. There are several government support programs and grants available to businesses like yours and we want to assist you in navigating these options, below we have provided a few we believe are best suited for tourism operators.
Please check back often, as we will provide updated resources for our tourism partners. At any time you need assistance with these resources or with any Covid-19 support please don't hesitate to call me directly at 705-641-0745 or email joconnell@musokatourism.ca
Janet O'Connell
Executive Director
Muskoka Tourism Marketing Agency
Posters and Decals For You!
Today more than ever we need to remind guests with visual clues for Covid-19 protocols, to assist you with this Muskoka Tourism has created poster and floor decals available to MTMA Members to use.  If you are interested in ordering the floor decals please email info@muskokatourism.ca.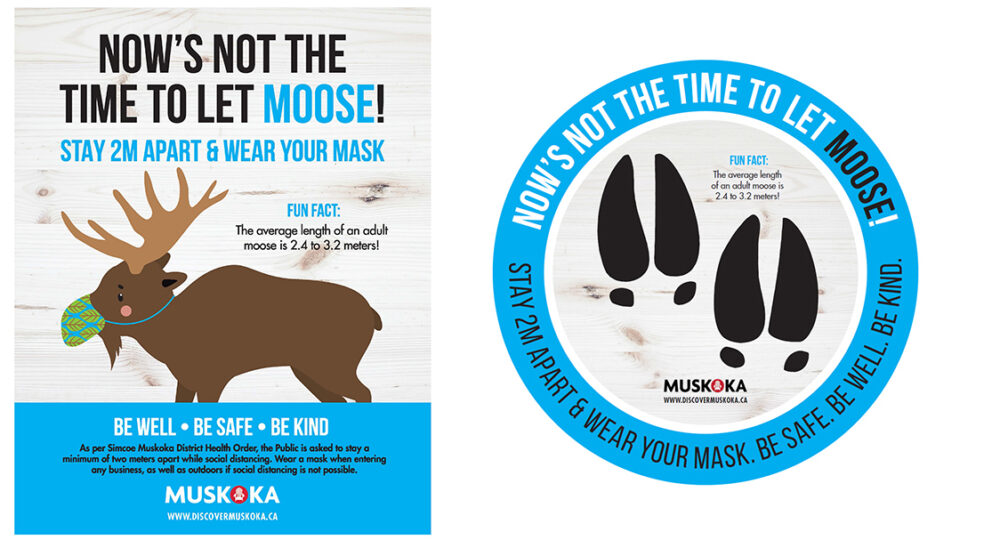 Click for 8×10 PDF File
Click for 11×17 PDF File
Enhancing Public Health and Workplace Safety Measures in the Province Wide Shutdown

On January 12, 2021 the provincial government announced a State of Emergency with enhanced measures.
Click here for more the full information.
New Small Business Support Grant up to $20,000

The support grant is NOW OPEN for small businesses. This grant will provide a minimum of $10,000 and up to $20,000 to help small business owners during this challenging period.
Click here for more information
COVID-19 Business Support Grants

Ontario is helping businesses recover costs for personal protective equipment and providing extra support for businesses required to close or significantly restrict services as a result of provincial public health measures.
Click here for more information
Canada Emergency Rent Subsidy (CERS)

Canadian businesses, non-profit organizations, or charities who have seen a drop in revenue due to the COVID-19 pandemic may be eligible for a subsidy to cover part of their commercial rent or property expenses, starting on September 27, 2020, until June 2021.
Click here for more information
Canada Emergency Wage Subsidy (CEWS)

Get the support you need to keep your employees on your payroll or bring them back to work. You can get a base subsidy for each of your eligible employees. The amount you get per employee is based on your revenue drop.*
Click here for more information
Main Street Relief Grant for Personal Protective Equipment

Providing up to $1,000 for PPE costs to eligible small business owners across Ontario with 2 to 9 employees
Click here for more information

Canada Recovery Benefit

The Canada Recovery Benefit (CRB) gives income support to employed and self-employed individuals who are directly affected by COVID-19 and are not entitled to Employment Insurance (EI) benefits. The CRB is administered by the Canada Revenue Agency (CRA).
Click here for more information
Property Tax and Energy Cost Rebate Grants

For businesses that were required to shut down or significantly restrict services due to provincial public health measures. This provincial application-based grant provides a rebate to eligible businesses in respect of property taxes and energy bills.
Click here for more information
COVID-19 Energy Assistance Programs

The COVID-19 Energy Assistance Program for Small Business (CEAP-SB) provides a one time, on-bill credit to eligible small business and registered charity customers to help them catch up on their energy bills and resume regular payments. Small business and registered charity customers may be eligible for up to $850 in support towards their electricity bill if they primarily use electricity for heating, or up to $425 otherwise. Small business and registered charity customers could also be eligible for up to $425 in support towards their natural gas bill.
Click here for more information