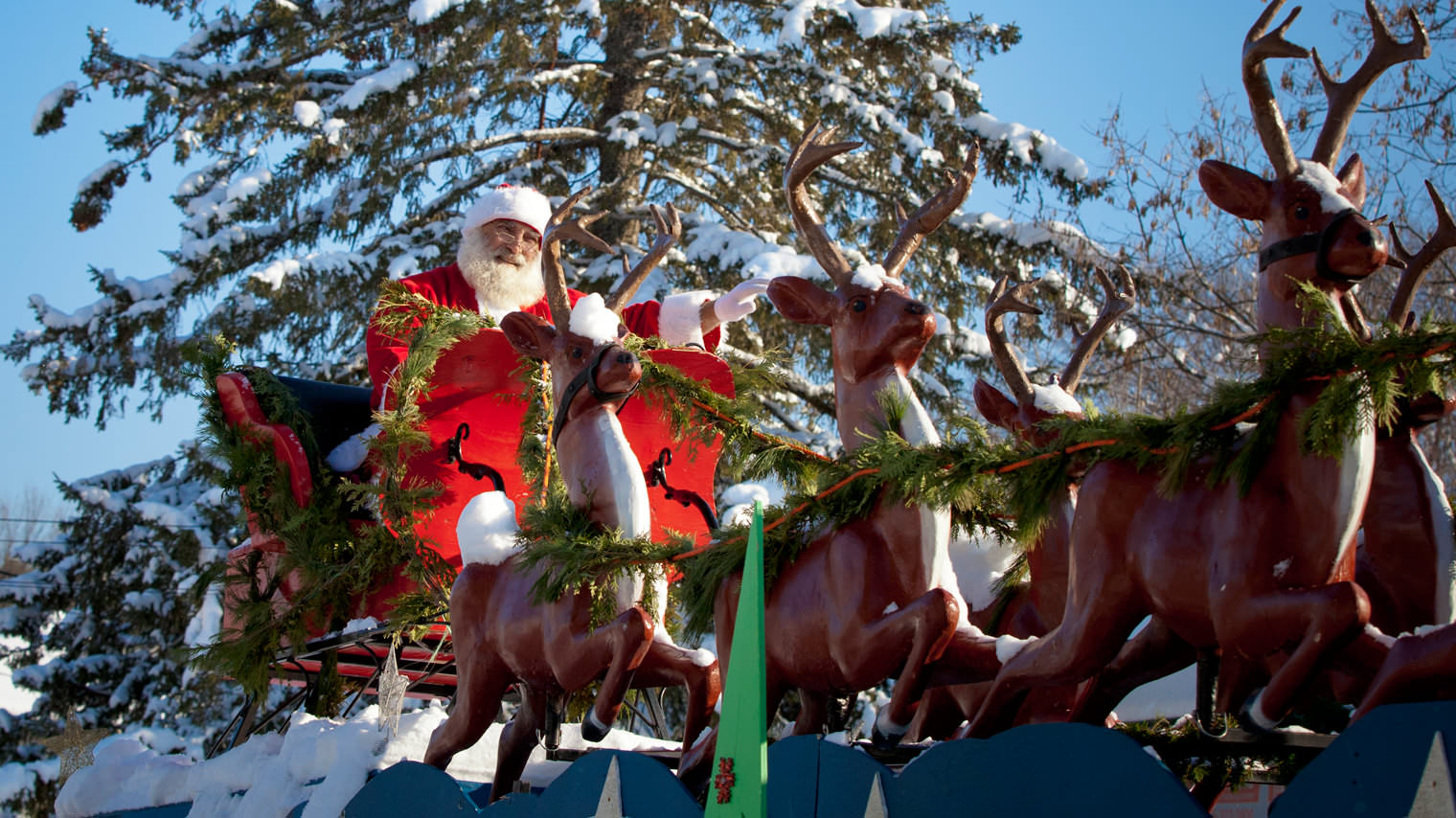 Muskoka is known far and wide as Santa's summer home, as thousands flock every year to Bracebridge and the 45th parallel to visit Santa's Village Family Amusement Park. During November and December, Santa comes back to Muskoka for one last visit before he heads back to the North Pole to prepare for Christmas night. The charming town parades across Muskoka are a popular family activity for locals and visitors to the area.
Head out to your local parade, and while you are downtown, be sure to support and patronize your local, downtown businesses.
Santa Claus is Coming to Town
Aside from the fun and excitement of his parades, Santa visits Muskoka a few other times throughout the holiday season to create more family memories. Be sure to check him out with the kids whenever he stops by your town!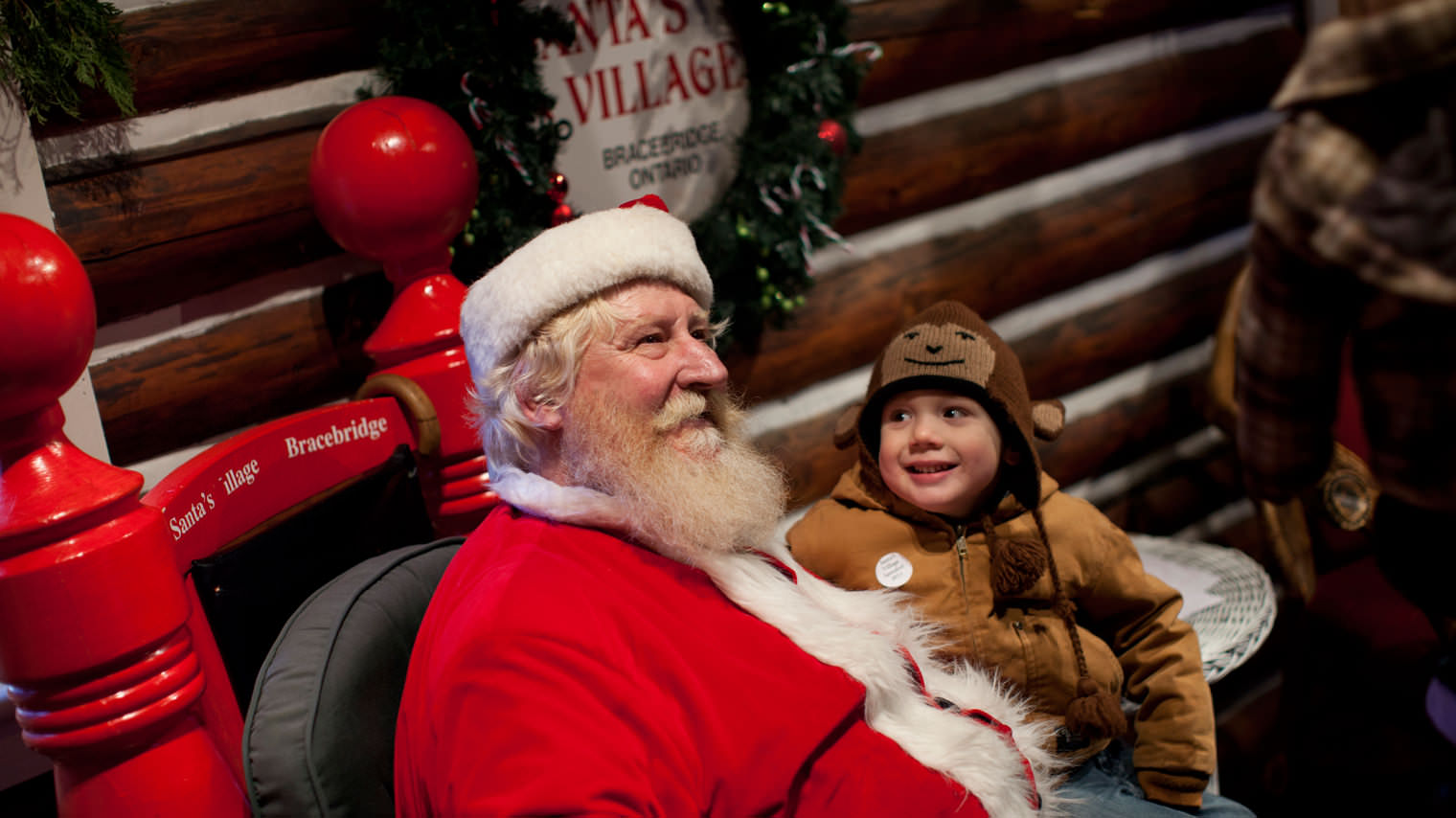 XMUS Festival
Bracebridge
December 2 – 4
Santa's Moonlight Shopping Party featuring the Festival of the Lights
Downtown Bracebridge
December 2
6pm – 10pm
A Portage Flyer Christmas – Evening Train Ride to Santa
Muskoka Heritage Place, Huntsville
December 17
5pm – 8pm
SantaFest at Santa's Village – Santa's Final Muskoka Stop Before Christmas & First Stop After Christmas
Bracebridge
December 10-11, 17-18 & 23
11am – 4pm
SantaFest, Thank Santa
Bracebridge
December 27 – 28
11am – 4pm
More Christmas Fun
36th Annual Christmas Show & Sale
Bracebridge
November 19 – 21
Black Friday and Community Tree Lighting
Uptown Gravenhurst
November 25
5pm – 8pm
Annual Tree Lighting and Carol Sing
Bala
November 25
7pm – 8pm
Elvis Blue Christmas
Gravenhurst Opera House
November 26
8pm
Dorset Community Christmas Activities
November 27
3:30pm
CP Holiday Train
MacTier
November 29
2:50pm – 3:30pm
Christmas Marketplace
Huntsville
December 2 – 4
Gravenhurst Farmers' Market Christmas Show
Gravenhurst
December 3
Bala's Trek to Bethlehem
Bala
December 3
6pm – 8:30pm
Buddy Holly: Rocking Christmas Party
Huntsville
December 3
8pm
Small Town Pistols at Deerhurst Resort
Huntsville
December 3
7pm
The Barra MacNeils East Coast Christmas
Huntsville
December 5
7:30pm
Made in Muskoka Christmas Show
Huntsville
December 9 – 11
Muskoka Chautauqua Homegrown Christmas Jam
JW Marriott The Rosseau Resort & Spa
December 9
7pm – 9pm
A Celtic Chrismas with Ashley and Friends
Peter's Players
December 9
8pm
Crafted Muskoka – Holiday Arts Market
Bracebridge
December 10
Trooper at Deerhurst Resort
Huntsville
December 10
7pm
Charles' Dickens A Christmas Carol
Huntsville Theatre Company
December 16 – 23
The Jim Cuddy Band at Deerhurst Resort
Huntsville
December 17
7pm
The Bolshoi Ballet presents The Nutcracker
Bracebridge
December 18
1pm
If you are looking for your perfect Christmas family headquarters this holiday season, take advantage of our Christmas Vacation Packages